January News 2014
January 2014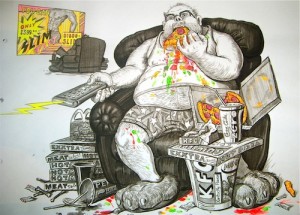 Commitment to your body
Workouts are good right? What if they aren't? What if they can't be tolerated? Would you take your 2 door rusted 1983 Chevy to the drag strip and trust it will make it 300ft with the gas pedal to the floor?
So what does the body need to perform at it's best it needs enough sleep, hydration, calories, food balance and nutrient density
Items we need to limit are alcohol, caffeine and sugar.
Items we need to balance are workout intensity, weekly/monthly recovery, weekly long workouts and sun exposure.
Sure there are many items that affect both sides of this body balancing act but how can you be perfect right? Well it probably isn't going to happen. So what is crucial is looking for symptoms of fatigue like elevated heart rate, feeling tired during many days, stomach issues, change in appetite, mood affects, output reduction, lessened motivation, etc. Watch for these, if they hold for more than a few hours to a day then you better act in your favor so you can move forward like you want to with your body vs getting ill or injured.
January Special
SERVICE
$15 off each person for a Group of 4 or more people EMR/RMR test

PRODUCT
$15 = 2 Zyms of choice & 2 Gatorade Primes
*Check or cash only for specials
CLINICS
Register for clinics 
here
Run Training Explained
Tuesday January 28 715pm
Come listen to Coach Matt explain the details on run training whether just starting or looking to win, training for a 5k to an ultra.
Blood Draw
Saturday January 25th 5:30-6am & 8:00-8:30 AM
Sunday January 26th 5:30-6 AM
Tuesday January 28 5-5:30AM & 7-7:30 AM
Registration is open for the Winter blood draw. TFP offers this twice a year. Get in it now so you know what your eating, exercise and supplementing is doing for you and if you need to adjust.
TFP night at M&M Cycles
Jan 25 2-5pm
Great chance to save and learn what you need for this year. Extra M&M Staff along with TFP coaches will be at M&M to help you. Pleae register so we know who is coming.
TFP Take Over Races
Cary Half Marathon March 16
CYN's Take A Step For Kids-April, date TBD
Pleassant Prairie TRI/Du June 21st & 22nd
Purpose is to show our team spirit to the race community and to provide some inner team competition. Please watch for details on TFP Facebook and get registered asap.
BIKE Improvement Challenge- Feb 17-March 30
So you think you know how to push the bike….. Here is the challenge:
-Do a Compu Trainer Time Trial at TFP by Feb 15th, weekly session TT from the week of Jan 27 can count for this
-Time Trial is a 10mile flat course on your road or tri bike as fast as you can
-Buy 1 dotFIT Pre/Post, 1 Gatorade Powder, 5 Powerbar Blasts and 1 dotFIT NO by Feb 15th or Time Trial day which ever is sooner
-every week there will be a chance to do posted rentals for free, as many as you can do but also in a format to try to improve from a mix of hill, wattage, terrain and 2hr rides
-Do a re-assessment by April 12
-Improve by 4%, get what you bought FREE
Coming Soon
TFP Training Camp- details coming but we are very close to having a 4day camp in the San Fran area this Spring to do some overloading of swim, bike and run and education sessions between training with meals. If you are interested give me your thoughts. Generals, fly out, bring your bike, stay at hotel, swims in pool and ocean, bikes 60-180min in some hills and runs 5-12miles in some hills and great county and stay in hotel with meals and education time together. Email me thoughts, matt@thefitnesspursuit.com
Adding Thursdays Compu Trainer 630am with Coach Dan starting Jan 30th, registration opens Sunday Jan 12 at 9pm
Youth Compu Trainer open for registration, current options Friday 545pm & Sun 535pm, if a large interest we will add weekly sessions. This session runs from Feb 2- May 2 2014. Please register your youth and pay. Road or none tread tire are required.
Registration for TRI Training, Super Summer Speed and Clinics
Aquashere @ TFP
Goggles for all ages clear and smoke, pull buoy, nose plug, hand paddles, fins, buoy, dumbbells, kick board/buoy combo, swim bag and swim caps
YOUTH Compu Trainer
Registration just opened for session running from Feb 2-May 2.Youth Compu Trainer will be set up Fri 545pm & Sun 535pm for 60min coached ride working on skills & conditioning to have them prepared to ride outside. A no tread skinny enough tire is required to ride the CT. Registration will open for each week soon and will be on a first come basis. If registration for this spring session grows large enough to need more weekly sessions TFP will add them. Please register asap so we can assess if more times are needed.
Commitment wall
Check it out, many TFPers are ready to commit and define what they are going to train for in the upcoming year! Lets see your SMART goal up there.
Worlds TRI
Taking an athlete to the level of USA Worlds TRI Team, follow what TFP does with Ieva:

https://www.facebook.com/groups/244184482423444/
6 Week Make Overs
Have you seen this project, might help you with your weight loss or performance plans/goals:
https://www.facebook.com/pages/6-Week-Make-Overs/440622259397133
COMPEX
TFP has added the Compex Elite as an option for helping us with your goals of faster recover and strength improvements.
1 time usage is $10
We ask that you buy you own sets of pads for regular usage
You can purchase your pad and your very own Compex from TFP
Under Water Video Taping
Here is your chance to be able to hear and see what you are doing with your swim stroke. Set up a session with staff for your video taping.
Fee is $80/hr
You get the files from the session.
Rentals @ TFP
Rentals can be done of TFP. This means you get use of the facility but without coaching
STC Swim Lane-times will be posted on the Registration page. $15 per person per hour.
How they work-show up at your time, you get to use 1 lane, have suit, towel and goggles and you may use the timers
Compu Trainer-options are when CT or Yoga is not happening and when staff is at TFP, which is most of the other hours. Email Matt to reserve a rental. $15 per person per hour
How they work-how up 10-15min before to set up, you get use of the room for 1hr, let coach know what type of terrain or wattage course you want, set up your bike, have fuel for your ride, after you have warmed up enough to calibrate, let coach know to calibrate you, calibrate, coach will start you and then clean up after yourself.
Treadmill-options for a treadmill on that not so nice day outside/you want to hit those pace intervals and when PT clients are not using the treadmills. Email Matt to request a time. $10 per person per hour
How they work- you get to use the treadmill for 1hr, you can use 1 or more fans if available, you can open door if reasonable, have fuel needed for run and clean up after yourself.

TFP is Hiring
-Sport Psychologist-looking to add a resource to athletes to help them handle the mental piece–need 1
Thank you for the referrals!!! New offerings to come;)
WE produce some amazing results together!
Contact Coach Matt if you are interested or know someone.