June News
June 2012

Resistance Training!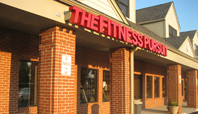 As the weather gets warmer, vacation, races, kids out of school, etc, many stop or lessen their resistance training. Why do we resistance train? Seems to be the opposite of what we should do.  It helps keep body fat down, aren't we wearing less cloths in the summer? It helps keep us injury free, aren't we racing or move active playing in the summer. It helps us produce more force, aren't we looking for faster times in races? It helps with anaerobic capability, aren't we looking to tolerate really hard in race and workouts? It helps with stability, aren't we looking to resist fatigue, go faster, lower injury risk, etc, etc.
TFP offers many options for Resistance Training:
-Functional Weights-Mon, Wed & Thur at 730pm and Fri at 11am
-Personal Training- 30 or 60min, 1 on 1, 2 on 1 or small group
-Trainer options of Lauri, Kelli, Derek, Wendy & Matt
Now how often and how much?
-older & newer- 2-3x's per week for 30-60min
-injury prone-2-3x's per week for 30-45min
-younger & experienced-2x's per week 30-45min
Email your coach of choice to set up your session asap!!
June Special
SERVICE
By 5 hours get 1 hour free
*limit of 20hrs purchased

PRODUCT
Weekly Special at TFP. See the bright orange "SPECIAL until SUNDAY" sign *
*Check or cash only
New Programs & Clinics
Mon June 4th at 9pm programs & clinics will be posted!!
Programs-Long & Light, Super Summer Speed, Super Open Water Speed, Cycling Edge and Th 630am Yoga
Clinics-Transition, Junior TRI, Lake Michigan Swim, 2mile Swim Challenge and Race Fueling
NEW Staff at TFP
Please welcome the new staff to TFP! Check out the
staff page
to find more info out about them and set up your sessions with them: Derek- Personal Training, Compu Trainer, EMR/RMR, Group Endurance Programs/Clinics, Functional Weights and Weight Loss Programs   Wendy- Personal Training, RMR, Functional Weights, Beginner Fitness Programs and Weight Loss Programs   Markay- Massage Therapist
21mph Challenge
How good are you? How good are you at working as a team? We did a 21mph challenge last year that many enjoyed and it seemed to help those believe in their ability. Here is how it will work this year:
-route is the TFP Sun ride
-Sundays June 17  & July 8
-times will be posted as we get closer but assume 630am
-women solo-19+ mph will be rewarded
-women team-20+mph
-Coed team-21+mph
-men solo-21+mph
-men team-22+mph
-reward will be posted with each session time post
-make sure you post these in your training plan if you plan to do them
-get your team organized, team= you and 1 other person to allow for drafting
Sundays- at 630 am  
Other Free workouts from TFP
Tuesday at 8am Walk-usually 3-4miles Wednesday at 830am Bike-usually 30miles with speed 17-19mph with some pushes Thursday at 530am Run-usually 5-8miles and 730-930pace
TFP Take Over Plan

TFP Take Over was designed to allow TFP to come together an show their pride and ability to the local races along with some good old fashioned competition between its athletes! TFPers will often do other races in large numbers but these will be the 3 we ask you to highly consider. Make a note in your calendar now.  After assessing past years take overs and local event schedules that TFPers tend to follow for various goals, here are the adjustments:
-Coach Matt with collaboration with coaches and athletes has chosen the events.

1. Cary Half Marathon
Sunday March 18
Registration will open and close on Dec 31stWHY?1-to get TFP running early
2-to get TFP running enough miles early
3-to challenge TFP
4-to show the local runners a TFP Take Over5-to encourage TFP to get to race weight early in the year to handle this distance and the hills
6-to give focus to the Preseason Perfection Running Program TFP runs from Dec 31- the Sat before
2. Reach Out & Run 5k
Sat April 21st 
Registration should open early 2012WHY?1-to get TFP running fast early in the year2-to challenge TFP to push hard
3-compare to past since TFP has done this many years
4-show local runner a TFP Take Over
5-to continue to encourage race weight through going fast
6-to give a initial focus to the Super Summer Speed Running Program to
start March 20th Tue 6pm
3. Pleasant Prairie TRI/Du
Sun June 24th
Registration is openWHY?1-to get TFP racing multi-sport early
2-offers Olympic TRI, Sprint TRI, Sprint DU & Kids TRI
3-compare to past results
4-to show local multi-sporters a TFP Take Over
5-to give focus to Tri Training Program & I-Can-Tri program & TRI Clinics
Junior TRI Clinic Series
Transformation Triathlete by TFP
YOU will want to check this out. Look at the photos and see  TFP's project for 2012. The project goal is 40lbs of weight loss and finishing an olympic tri as the first ever tri. TFP is very excited about this project. TFPers please help support this. Like it on Facebook, Post messages, High five them, Etc. We will be changing lives forever! Click here to see the Facebook page.
TFP in The News- check out the below links
Lake County Magazine-good story defining TFP
Lake County Journal-TFP's Commitment wall & Goal setting
Grayslake Patch–Coach Matt's blog & other articles about TFP