June News 2013
June 2013

Future Commitment = Swim Training Center
Five, five fast awesome years have gone by. We couldn't have dreamed TFP would have been this great! Every year TFP has added elements to offer more. As always, TFP has the mission to offer quality staff, equipment, and products!
Here is what is being added to TFP:
Staff- Yoga Instructor Carrie & Personal Trainer/Coach Nikki
Improvements- adding separate AC/Heat to Group room to control temperature and humidity for Compu Trainer, Yoga, Clinics, etc
1156 Space- TFP Swim Training Center= 2 Dual Propulsion Endless Pools to provide Swim Coaching for all ages: individual and small group format, kids lessons, Under/Above water video taping, mirror feedback, and of course intense training. We are so excited and have been working on this project for many years, it is time! You can learn more about them here.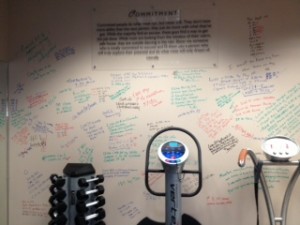 Staff's Commitments/Pursuits
Staff has agreed that they are going to lead by example! See below what we plan to do. If you haven't shared your commitment/pursuit on the commitment wall, please add asap, markers are on the floor by the dumbbell rack.
Matt-qualify for Worlds 2014 at Nationals 2013 & PR swim, bike and run at IMWI
Lauri-IMWI swim <1:15, Half IM run <10 min miles & maintain weight < 129 through end of year
Kelli-3:35 marathon
Delfino-5 pound weight loss by July 30th
Wendy-Drop 15 by Sept 15 by using the shakes and bars
Nikki-run a mile under 7 minutes & build my strength to be able to do a pull-up unassisted by Dec 1
Carrie-run 2-3 miles 2x/week & do Yoga everyday
Markay-race in the Nov. 3rd Hot Chocolate Half & lose 20 lbs. by Nov. 3rd
Many TFPers have qualified and many have said they are coming up to watch Nationals this year. They really need volunteers. Check out the link here and take your pick of what would work for your ability and interest.

TFPers can set up a recurring dotFIT order and SAVE! Simple, have a TFP coach make you an account and then you can see the price difference with TFP account compared to normal online ordering. TFP coaches can help you understand what products are best for your goals, how you use your body and your normal daily diet.
June Special
SERVICE
Buy 5 Personal Training sessions get 1hr Free

PRODUCT
$15=1 Zym Endurance + 1 Zym Catapult + G Recovery Shake + G Recovery Drink



CLINICS
Register for clinics
here
Most registration will open on Sun June 9th at 9pm.
Lake Michigan Swim Clinic
Thursday July 11th 6pm leaving from TFP, return at 845pm
Are you doing a TRI that will have a swim in Lake Michigan or want some extra swim group training? You will learn how to deal with Lake Michigan, group starts, exits, drafting, sighting and issues that you may be faced with.
Transition Clinic
Tue June 11th 730-830pm at Jones Island
Save minutes by doing Transitions right. Plan to swim, bike and run. Bring all gear to Jones Island. Coach Lauri will be leading this clinic.
Fueling Multi-Sport Events
Tue June 18th 730-830pm
Come talk through All distances of TRI & DU so you know what hydration, salt, calories and what products are needed to set up your plan for your multi-sport event—Coach Matt
Junior TRI Clinic
Monday June 17 and/or July 22 6-7pm
Lets have our juniors, ages 8-14, ready for their event. They will talk through and practice swim to bike to run at Jones Island with Coach Matt
Fix Bike during Ride
Monday June 23 630-730pm
Hands on learning of  how to fix the common things that go wrong on your ride. Bring your bike and tools you normally have on your bike—Coach Matt & Coach Delfino
Fueling Run Event
Tue July 23 730-830pm
Come talk through All distances from 5k to Marathon so you know what hydration, salt, calories and what products are needed to set up your plan for your running event—Coach Matt
Run Gait Analysis
Tue July 2 730pm or 830pm
Come learn about running gait, have your gait assessed, leave with assessment sheet and receive a video if you bring a USB stick—Coach Matt & Coach Kelli
Restorative Yoga
Sun June 23, July 21 & Aug 4
With training and racing creating a lot of stress on the body, come to this session to promote recovery. Yoga Instructor Carrie will be leading this clinic.
IRONMAN Fueling
Fri Sept 6 1-2pm at Madison Hilton
Clinic will help you finalize your plan for Ironman WI 2013 now that we know the weather, lets set plan for calories, ounces, mg of sodium and mg of caffeine and discuss the symptoms that may require adjustments to the plan.
Swim Improvement Challenge- April 22-June 19
So you think you know how to push the swim….. Here is the challenge:
-Do a pool swim assessment by April 28th
-Assessment is 1000 meters or yards non stop swim as hard as you can go for time.
-Buy 1 TFP Swim Cap, 1 TFP Sweatshirt and 1 Pool Personal Training Session by April 28th
-Get 50% off TFP Swim Clinics that you register for and pay for during this challenge
-Get 50% off TFP Super Swim Speed Program
-Weekly Swim workouts will be posted
-Do a re-assessment from June 10-19th
-Improve by 15sec or more, get 1 TFP Longsleeve T-shirt, 1 TFP Shortsleeve T-shirt & 1 Lake Personal Training Session
TFP Sunday Bike Schedule
June 9th 630am Matt Race Ride
June 16 630am Matt & Lauri Team Ride
June 23rd NO 630am RIDE with TFP Take Over at Pleasant Prairie, maybe those not racing could ride up to cheer on, Post on Facebook this week
June 30th 630am Lauri EnduranceRideTeam=no drop, drafting, road bike recommend and some pushing for about 40miles totalEndurance= Zone 1/2 work, drafting is optional, time trial bike recommended and distances will vary from 20-56+Race= upper Zone work, no drafting, time trial bike recommended and 56miles will be encouraged
 TFP Take Over Plan
TFP Take Over was designed to allow TFP to come together and show their pride and ability to the local races along with some good ole fashion competition between its athletes! TFPers will often do other races in large numbers but these will be the 3 we ask you to highly consider. Make note in your calendar now.After assessing past years take overs and local event schedules that TFPers tend to follow for various goals. Coach Matt with collaboration with coaches and athletes has chosen the events.
1. Cary Half Marathon
Sunday March 17
Registration will open and close on Dec 31st at 6am
WHY?
1-to get TFP running early
2-to get TFP running enough miles early
3-to challenge TFP
4-to show the local runners a TFP Take Over
5-to encourage TFP to get to race weight early in the year to handle this
distance and hills
6-to give focus to the Preseason Perfection Running Program TFP runs from Jan 5- the Sat before
2. Take a Step for Kids
Sat April 20th–5k, sign up for 5k
Registration is open.WHY?
1-to get TFP running fast early in the year
2-to challenge TFP to push hard
3-compare to past 5k pace
4-show local runners a TFP Take Over
5-to continue to encourage race weight through going fast
6-to give a initial focus to the Super Summer Speed Running Program to
start March 19th Tue 6pm
3. Pleasant Prairie TRI/Du
Sun June 22nd & 23th
Registration is openWHY?
1-to get TFP racing multi-sport early
2-offers Olympic TRI, Sprint TRI, Sprint DU & Kids TRI
3-compare to past results
4-to show local multi-sporters a TFP Take Over
5-to give focus to Junior TRI Club, Tri Training Program & I-Can-Tri program, TRI Clinics &
Junior TRI Clinic Series
Coming Soon
Cycling 101 Clinic
Drop 20-40 Registration
Don't Fall Back Run Registration
Swim Training Center offerings and timeline
Blood Testing-Registration will open June 9th at 9pm also, Tuesday Jun 25th 5am-5:30, Thursday June 27th 7am-7:30 and Sunday June 30th 5:45am -6:15
Light & Long Run Program
July 20-OCT 5 645-915am Rollins Savanna
Program will include multiple coaches(up to 5 available if program fills) running and/or biking up to 2.5hrs along with 2 provided water aid stations about every 1.5miles. Program is designed for those that love to run, plan to run Half Marathon, Marathon, Ultras, half Ironman and/or Ironman. Program price includes EMR to help you learn where to run and also the Run Fuel clinic which will help you learn/understan how to fuel these sessions.
Yoga Instructor Carrie
Please welcome Carrie! She will be another great instructor to help us all keep balance in our training. Get signed up for the Restorative sessions this summer and look for classes to be added once school starts up.
Personal Trainer & Coach Nikki
Please welcome Nikki! She will be doing Personal Training, Functional Weights, Compu Trainer, Weight Loss Programs, Endurance Programs and Clinics

TFP is Hiring
-Massage Therapist–looking for someone that understands how to manage the demands an athlete has on their bodies—need 1
-Personal Trainier/ TRI Coach- looking for physical ability to be able to keep up and push clients and assist with TRI, Swim, Bike & Run programs/clinics—need 1-2
**Both can have current clients they want to locate to a studio space or no local clients.
Staff at TFP works as a TEAM vs their own business!
-Sport Psychologist-looking to add a resource to athletes to help them handle the mental piece
-Physical Therapist-looking to add a resource to athletes to understand how to care for the body and steps to get back
WE produce some amazing results together!
Contact Coach Matt if you are interested or know someone