MASSAGE THERAPIST ALLEN WALKER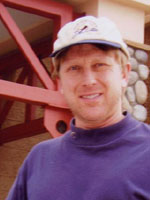 Allen Walker, Nationally Certified  Sports Massage Therapist
Allen has been serving athletes in the Northern Suburbs and Chicago for the past 20 years, often volunteering his time for CHICAGO MARATHON participants, University of Illinois swimmers and Northwestern students. All of his sessions are based on Sports Massage Techniques which would include body joint mobilizations, active and passive stretching, and tense and relax methods to help facilitate an increase in range of motion. Depending on the athlete's needs, other modalities employed can range from Deep Tissue, Reflexology, Energy Balancing, Shiatsu, Trigger Point, and Jin Shin Do. Allen resides in nearby Gurnee and is a proud parent of 2 girls, Olivia and Elizabeth.  His hobbies are beach volleyball, running, tennis and music.
Allen's Availability
Tuesdays: 7:30pm-9:30pm
Wednesdays: 7pm-10pm
Sundays by appointment.
Make Appointment with Allen by calling 847-986-2727

Other times/dates may available by request.
Massage for Athletes

One Hour Session

One 90 Minute Session