JON SUNDBERG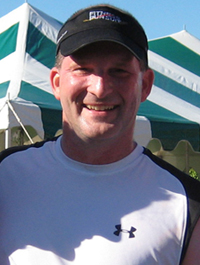 Occupation: VP of Credit Policy – Modeling and Analytics
Goals Achieved: As a former high school athlete and an outdoors enthusiast, I was used to competition and living an active lifestyle. As I moved into adulthood with family and work responsibilities, exercise started to fall by the wayside and I gradually added some weight to my frame. My biggest goals were to be more active, control my weight, and generally feel healthier. Twenty minutes on a stair machine a couple of days a week wasn't sufficient! I started running in the fall of '05 and actually found myself enjoying it, despite not being very fast. I added biking in the spring of '06 and really enjoyed my time on the road. Things really began to take off when I added some races and an actual plan for training intelligently.
Races Completed:
Muddy Buddy '06
Condell Classic 5K '06 '07
Prairie Crossing 5K '06
Gurnee Turkey Trot '06 '07
Samson Stomp 5K '07
Beloit Wellness Biathlon '07
Pardeeville Sprint Tri '07
Lake Geneva Olympic Relay (run only) '07
Runner's Edge Trail ½ marathon '07
How has TFP Helped Me Reach My Goals: My first group program, Super Summer Speed in '07, helped with:
Scheduling – I do much better when something is regularly scheduled. It also included a weekly running plan for me to follow on my own time.
Motivation – Being around other athletes and seeing their dedication was very motivating as I am used to "going it alone". Encouraging words along the way and at the finish line from a great group of people are much appreciated.
Coaching – I had very little concept of heart rate zones, how to vary my workouts, and especially fueling, so the coaching provided here was critical. Admittedly, I did significantly focus on running and had a great deal of room for improvement.  However, the results were clear when I was able to cut 1:15 off of my 1.5 mile assessment and 2:30 off of my 5K time.
Seeing results and knowing I had much more to learn has led me to TFP (Coach Matt) for a personal training plan. This helps me reinforce the items above – scheduling, motivation, and coaching. It also balances my training and gets me in the pool for some very much needed work. Additionally, we incorporated weight training which I hadn't done since high school.
What's Next? Clearly, there are many more accomplished TFP athletes out there with much more significant race bios than me. Last year, I competed in my first triathlon without doing any swim training (not recommended!). This year I am more prepared and will compete in a few sprint tris, my first Olympic tri, a hilly 100k bike ride, and then the Chicago Marathon (hopefully on a comfortably cool day!)
Advice for Other TFP Athletes: I will never be an elite athlete and I am definitely a work in progress. One of the most enjoyable things is seeing the progress and remembering where I used to be. I have a long way to go but exercise, training, and competitions are wonderful stress relievers and mechanisms for a healthy lifestyle. At the same time, it is really important to keep a balance with religious, family, and work commitments. I have the benefit of having a wife who is also involved in the sport so we can support each other and train together. Enjoy your workouts and make sure to keep it fun!