RON WEINERT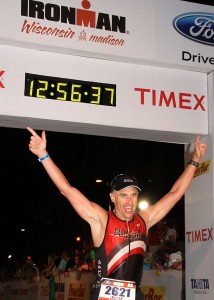 I have been involved in athletics my entire life and thoroughly enjoy the
feeling of a hard workout and tough competition! I began running five or
six days per week around 1997 and after 10 years I started feeling the
effects in my knees and started contemplating cross training. At about the
same time, I met someone that completely inspired me to change my life.
Amongst other celebrity guests at a Walgreens (the company I work for)
sponsored event was a gentleman by the name of Jay Hewitt. He was
diagnosed with Type 1 Diabetes at the age of 24 while in Law school. He
was determined not to allow diabetes to slow him down and took up
endurance sports. He eventually qualified for the USA National Triathlon
Team and competed around the world while he was practicing Law in a major
firm in South Carolina. During this time, he also met and married Miss USA,
Anna Hanks-Hewitt. He inspired me to begin cross training and I eventually
competed in my first, very short distance, triathlon in the summer of
2008. I competed in 10 triathlons before I met Matt Petersen in the winter
of 2009. I struggled through all 10 triathlons not having any knowledge of
proper fueling, hydration, electrolyte balance or proper training. But
yet, I still loved the sport and the feeling of getting to the
finish-line.
After meeting Matt and touring The Fitness Pursuit, I signed up for a
CompuTrainer class and PreSeason Perfection. I began learning valuable
skills and techniques immediately and thoroughly enjoyed the camaraderie
with the other TFPers. My endurance immediately improved and I began
loosing weight and getting much closer to my ideal body weight. I competed
in numerous running races and 7 triathlons in 2010 with the guidance of
Matt and the support of the rest of the coaches and team, including my
first Ironman 70.3, Steelhead. I performed very well and knew as soon as I
hit the finish-line that I would pursue Ironman Wisconsin the next year.
I now take full advantage of every service offered at The Fitness Pursuit,                                                                                                                            which has assisted me in staying healthy and furthering my enjoyment of the                                                                                                         multi-sport life. I have learned so much about technique, nutrition, taking care of my body,
heart rate zones, proper recovery, and breaking through mental barriers. I
am getting faster every year even though I am in my mid 50's. I am in my
second year as part of the Ironman Group at The Fitness Pursuit and take my daily
direction from Matt. However, Kelli, Lauri, Kim and Delphino bring diverse
talents to The Fitness Pursuit and really have rounded out the benefits I derive from
active participation at The Fitness Pursuit.
I have so much energy and I seem to be able to fit it all into a busy
family and business life as well. I have made so many friends at The Fitness Pursuit and
my family also now takes classes and Personal Training with the coaches at
The Fitness Pursuit.
The Fitness Pursuit, training and triathlons are such large parts of my life.
My wife and I live each day dedicated to the life style that supports our training
and competing schedules. When we sleep, what we eat, where we travel, who
we spend time with all centers around our multi-sport life. My wife and I
have taken this a step further and are now volunteering with the Great
Lakes Adaptive Sports Association and Dare2Tri, organizations dedicated to
helping those with physical and cognitive disabilities. We have been very
fortunate and it is our way of giving back.
The Fitness Pursuit is at the center of our lives and the coaches as well
as the other teammates are such a motivating force for both my wife and I!