SAM STEIN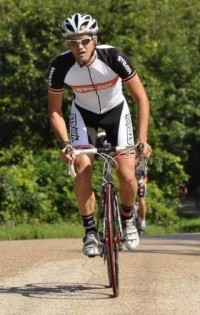 I came to The Fitness Pursuit looking to get stronger on the bike, as that was my main interest. I'd been road cycling for a few years as a form of exercise, but I did not really feel like I was getting any faster or stronger. After an initial consultation with Matt, I signed up for a weekly Compu Trainer class. My first ride was a 10 mile time trial, and it was unlike anything I had ever done before. I believe my average watts were somewhere in the 240s. I also was at my heaviest weight, which was around 180 lbs. Towards the end of the year, I did a "biggest loser" contest at work and increased my Compu Trainer classes to three times a week. After three months, I managed to lose over 25 pounds; and I increased my time trial watts to around 300.
There is no way I could have done this without The Fitness Pursuit coaches motivating us to push harder when we think we are at our maximum or hold a hard effort when we think we cannot hold it anymore. Anyone can ride a trainer in their basement, but there is definitely something to be said about riding with 7 others in the room, watching numbers on a screen for everyone to see.
I have branched out to doing triathlons. While cycling continues to be my favorite of the three sports in a triathlon, I have embraced swimming and running by participating in the various group sessions and programs offered at The Fitness Pursuit.