YOGA Instructor Audrey Craddock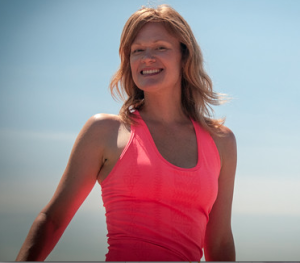 I first began practicing yoga as a way to reduce the stress and anxiety caused from my demanding job and busy life.  Instantly, I fell in love.  It also became quickly apparent what a beautiful compliment the practice was to my running routine and other physically demanding workouts.  Not only did the aches and pains from being so tense for so many years start to melt away, but I found myself much more in tune with the present moment, able to truly slow down and appreciate life.  As my practice developed, I could feel my anxiety and stress dissolve with each passing day, as my mind and body felt stronger and more alive…cultivating a feeling of contentment, peace, and strength.
My journey into teacher training felt like a natural one, fueled by a desire to deepen my own practice, along with a good deal of encouragement from my teachers.  I completed my 200 hour training through Blue Sun Yoga with Wendy Dahl and Adam Braun and am a Registered Yoga Teacher through the Yoga Alliance.  I've also completed training through Connected Warriors, an organization that offers yoga to military veterans and their families and loved ones.  I've experienced firsthand the incredible healing benefits this practice has to offer and consider such experience a gift.  Teaching enables me to share this wonderful gift with my students just as my many amazing teachers have done and continue to do so with me.  Creating a fun and relaxed environment in which students of all levels can come into and feel comfortable is my goal with each class.  Smiling, laughter and not taking ourselves too seriously are highly encouraged!  My hope is that students are able to find comfort in their own practice and leave class feeling a little more alive in their mind, body and spirit than when they first arrived.
In my free time I enjoy running, hiking, traveling, riding motorcycles and listening to good live music.  I run a few races each year, which, in the past, have included the Maui Half Marathon, Rock-n-Roll Chicago Half Marathon, the Elgin Fox Trot 10 Mile and 5k, The Shamrock Shuffle, and a variety of local 5k's.  I believe that staying active is key to a long, happy and healthy life.
Contact: audrey