March News
March 2012

Biking, a life long sport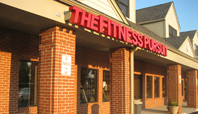 There are many sports adults try to do, but there are few they can enjoy from their 20's to 80's. Biking is surely one of those! You don't have to race all the time but you can get outside and enjoy most of the year and then enjoy some different training inside with people you wouldn't normally ride with on the Compu Trainer, Spin Class or on the stationary bike at the gym. There are so many trails, parks and roads that are being designed for the use of bikes. IYou can do a little searching online for these or for cycling groups in your area that will help guide you. Compu Trainer classes at The Fitness Pursuit are at a all time high with number of classes, riders and new riders. 2012 is going to be a great year!!!
March Special
SERVICE
$20 for all the rentals you can do in March-normal cost is $15 per rental. Contact Matt for options.*

PRODUCT
Weekly Special at TFP. See the bright orange "SPECIAL until SUNDAY" sign *
*Check or cash only
Sundays-Starting April 1 at 830 am Thursday-starting early May, more info to come
Bike CLINICS
Tire Changing Clinic

Mar 12, 2012
07:30 PM – 08:30 PM
$ 10.00
15
2
Coach Kelli will teach you the skills and the tools need to change a flat in your garage and on the road. Don't let this hold you back from riding.
Cycling 101

Mar 22, 2012
05:30 PM – 06:30 PM
$ 10.00
15
2
Cycling 101- learn useful skills on the bike. For new cyclists and a refresher course for veterans- Bike handling, cornering, feeding,drinking, shifting, clipping in/out.
Basic Bike Mechanics

Mar 24, 2012
11:30 AM – 12:30 PM
$ 10.00
15
5
Coach Matt will help you understand the basics to keeping your bike running smoothly and safely on the road and some quick checks you can do before you even go for a ride. Don't be that person with the noisy bike or the bike that breaks down!
Group Programs coming soon
Group Programs: Summer
Super Summer Speed

Mar 27, 2012 – Jun 19, 2012
06:00 PM – 07:30 PM
$ 150.00
40
23
Proven results! Program will be laid out systematically to increase running pace with various speed workouts like fartleks, intervals, hills, tempo and lactate threshold heart rate (LTHR) testing Program will include weekly running suggestions to work toward seasonal goal.
Group Programs: Triathlon
Triathlon Training

Mar 24, 2012 – Jun 16, 2012
06:45 AM – 08:15 AM
$ 250.00
30
16
Program will teach more advanced athletes how to handle high intensity along with some of the finer points of triathlon race strategy. Triathlons are as much a mental as a physical challenge, and this program will be designed to push your limits!  No session April 21 to allow TFP Take Over #2
I Can Tri

May 03, 2012 – Jun 17, 2012
06:00 PM – 07:30 AM
$ 250.00
30
6
Program will help those new to the sport of triathlon. Please note that the program meets twice a week: Sundays @ 6:00am-7:30am and Thursdays @ 6:00pm-7:30pm.
***NEW*** Registration Sign In
Now when you register or look at current programs available for registration you will be asked to sign in. Great feature! It will allow you to auto fill you registration form and register/pay for many programs/clinics at once.
Off Season Challenge

TFP will offer the challenge again this year with some twists!  Changes are:
you can do just 1 month
you must do a little more each month to be included in the raffle
a paper log will be required to turn in which will also serve as your raffle ticket for the month
you can earn zeros for not participating and we will post your zeros without making any assumptions but you will removed from the raffle for zero posts or not posting
monthly raffles will be huge, monthly coach is determining product & service raffles!!
January-Nutrition—coach Lauri
February-Run—coach Matt
March- Bike—coach Kelli
April-Swim—coach Kim
Cost $25 for One month
Cost $75 for all 4 months
**January—NUTRITION
weekly weigh in
attend 1 nutrition clinic by coaches/experts for free, included in program registration—many will be posted soon
attend 1 fat burning walk with coach(s)—many will be posted soon
post weekly points on TFP Forum by Sunday at 9pm
**February-RUN
Pre & Post Treadmill assessment at TFP
attend 1 running clinic-TDA
attend 1 Run from TFP-TBA
do 1 suggested Treadmill workout at TFP
post weekly points on TFP Forum by Sun 9pm
**March-BIKE
Pre & Post Bike assessment at TFP
attend 1 biking clinic-TDA
post weekly points on TFP Forum by Sun 9pm
TFP Take Over Plan

TFP Take Over was designed to allow TFP to come together an show their pride and ability to the local races along with some good old fashioned competition between its athletes! TFPers will often do other races in large numbers but these will be the 3 we ask you to highly consider. Make a note in your calendar now.  After assessing past years take overs and local event schedules that TFPers tend to follow for various goals, here are the adjustments:
-Coach Matt with collaboration with coaches and athletes has chosen the events.

1. Cary Half Marathon
Sunday March 18
Registration will open and close on Dec 31stWHY?1-to get TFP running early
2-to get TFP running enough miles early
3-to challenge TFP
4-to show the local runners a TFP Take Over
5-to encourage TFP to get to race weight early in the year to handle this distance and the hills
6-to give focus to the Preseason Perfection Running Program TFP runs from Dec 31- the Sat before
2. Reach Out & Run 5k
Sat April 21st (TBA yet)
Registration should open early 2012WHY?1-to get TFP running fast early in the year

2-to challenge TFP to push hard
3-compare to past since TFP has done this many years
4-show local runner a TFP Take Over
5-to continue to encourage race weight through going fast
6-to give a initial focus to the Super Summer Speed Running Program to
start March 20th Tue 6pm

3. Pleasant Prairie TRI/Du
Sun June 24th
Registration is openWHY?1-to get TFP racing multi-sport early
2-offers Olympic TRI, Sprint TRI, Sprint DU & Kids TRI
3-compare to past results
4-to show local multi-sporters a TFP Take Over
5-to give focus to Tri Training Program & I-Can-Tri program & TRI Clinics
Junior TRI Clinic Series
Transformation Triathlete by TFP
YOU will want to check this out. Look at the photos and see  TFP's project for 2012. The project goal is 40lbs of weight loss and finishing an olympic tri as the first ever tri. TFP is very excited about this project. TFPers please help support this. Like it on Facebook, Post messages, High five them, Etc. We will be changing lives forever! Click here to see the Facebook page.
TFP in The News- check out the below links
Lake County Magazine-good story defining TFP
Lake County Journal-TFP's Commitment wall & Goal setting
Grayslake Patch–Coach Matt's blog & other articles about TFP
TFP is Hiring
-Personal Trainer-Need 1-2
-Massage Therapist-Need 1
-Endurance Coach-Need 1-2
Contact Coach Matt if you are interested or know someone