Back to Page 1
The caffeine gave me a huge boost! Suddenly, I wasn't being passed anymore. Instead, I was passing everyone else. I allowed myself to go a little faster during the second loop and probably passed at least 200 people. Many of them were my inquisitive friends, who I warned to take it easy about two hours before. I would pass them and never see them again.
The crowd was amazing on all the hills. I felt like a pro. I was hammering up them, keeping my heart rate down, and having the time of my life. I went up the first big hill on Old Sauk and saw the same people I saw on the first loop! On to the second hill after that. Although I hated this hill during training, I loved it during the race. People were lined up 5 deep yelling and screaming to get you up it. It felt like the Tour de France and was so cool. The last hill came and my whole crew was spread out on it. A couple of my buddies started running along side me as I climbed the hill, which is something I will never forget. I'm honored and lucky to have the friends and family I do. I got to the top and it was pretty much smooth sailing from there.
There was a little bit of a headwind heading back to the city. The last 10 miles seemed to take forever. With five miles left to go, I got a little teary eyed because I knew I was going to make it off the bike. I rode up the Helix, which wasn't hard, but I was starting to get dizzy. Then at the top, I was shocked to see my crew again! It was so awesome! I knew they were going to be at the start of the run, but I had no idea they would be there at the end of the bike. They totally blew me away all day long. So, over 112 miles, I averaged 17.6 mph for a time of 6 hours and 21 minutes. I'm very proud of that for such a hilly course.
T2 - Much of the same.
Bike to run transition. More getting naked in front of a bunch of dudes. That's all I have to say about that.
The Run - 26.2 miles
Ok, so I had never run a marathon before. Somehow, I had decided that my first marathon should be done after a 2.4 mile swim and a 112 mile bike ride. I've never claimed to be very smart.
I got to see my crew right away as I came out of the transition area. I gave them all a high five and set out on my journey. The first 5 miles were brutal. My heart rate was perfect, but I felt terrible. I remembered someone saying that it was going to take a while to find your running legs, so I just trusted in that.
I was pleasantly surprised to see that we got to go back on State Street for the 6.5 and 19 mile turn around. It was such a huge boost to see the crazy crowd again. After seeing some of my fellow CDW coworkers, I felt rejuvenated. I settled into a nice pace and just kept thinking about the finish line and what I was going to eat and drink at the next aid station.
At mile 13, I hit the turnaround and saw the finish line not 200 yards away. What a slap in the face! But, I suppose it was also very inspiring because I knew the next time I saw it, I would be done. I saw my family and friends again and stopped for a few quick seconds. It was great to take a little breather and I'm sure they could tell I was getting tired. I told them about the turnaround on State Street to make sure they would be there. I'm so glad I did that, because I needed them to be there more than at any other point on the course.
The next few miles flew by. I was able to see Dan, Lauri, Brian, Bob, Bob T, Huck, and all the TFP volunteers out on the course. It was so great to see everyone I have gotten to know and train with out there. Everyone was doing amazingly well and that helped me even more.
At mile 18 or so, I started to get some cramping in my calves. I was terrified that I was going to have to stop and walk. I stopped briefly right before I got to State Street so I wouldn't cramp up in front of all those people and my crew. I remembered that the chicken broth at the aid stations helped to replace your salt. Lack of salt can cause cramps. I downed chicken broth at every aid station for the rest of the run. It saved my entire marathon! I got to see the crew one last time before the finish at the turnaround. That was all I needed to get me to the finish line.
The next 7 miles were all about damage control. I was trying to keep my legs from cramping and keep my pace steady. Then came mile 25. I had read that as soon as you see the sign, you feel no pain. They were right. I slowed down a bit and started to take it all in. At that point, I knew I was going to finish, but I wanted to remember it! Right before I got to the Capitol, I saw Lauri coming. She was on mile 14 and she looked great! She had been having a ton of issues with her foot and it seemed like she wasn't bothering by it at all. I stopped to give her a hug and told her that she was going to finish strong. She told me that I did it…I was an Ironman! …and then it hit me…I was.
I left Lauri and headed to finish what I started 13 months prior when I decided Ironman Wisconsin was in my future in 2007. I rounded the last corner and saw the CDW Crew again. I stopped to give them all high fives and thanked them for coming out. They yelled at me and told me to go finish the race. I was in no hurry.
Next, I saw my family and friends for the last time. 100 yards from the finish line. I thought I was going to be very emotional and cry, but instead, I was overwhelmed with joy. I was SO excited to finally be done. I kissed Ana, hugged my parents, and high fived all my friends. It was a moment that I will never forget. I was told later, that as soon as I left and headed down towards the finish line, my parents and half the group started crying. I am so deeply touched by all of them. I could never put it into words.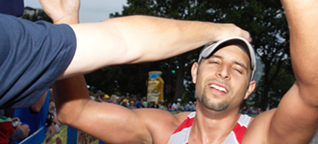 As I passed under the big Ford Ironman arch, I came into the area with all of the bleachers set up. I stopped for a second and did some crazy dance. I was so excited that I couldn't hold it back. I crossed the line screaming with excitement. I had finally done it…I was an Ironman.
I ran the marathon in 4 hours and 3 minutes. My total time for the day was 11 hours 56 minutes. That was good enough to put me 596th out of 2400 racers. Truly, this is the proudest day of my Athletic Life.
Selina, Steve, and Lisa from TFP were there at the finish line to "catch" me. I got my finisher T-Shirt and hat. They stayed with me until I got my picture taken and they brought me some Coke. Oh, did that taste great. It was so awesome to see some familiar faces at the end. It truly made it that much more special. I look forward to getting to know everyone from TFP more in the future.
I am a changed man from this experience. It all started out trying to see if I was capable of doing the "impossible." It turned into not wanting to let my family and friends down. It turned into helping my training crew realize their dreams as they were helping me realize mine. I am a better person because of this and I couldn't have done it without the support of everyone in my life. So, to whoever reads this -Thank You. Thank you from the bottom of my heart.
Ironman lasted one day
but my memories and the feelings you all inspired in me
will last the rest of my life.