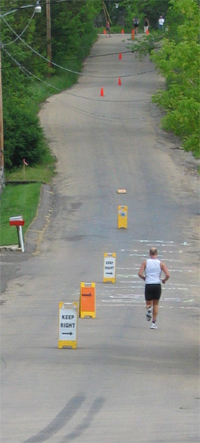 Coach Terry Harth

BS in Accounting & Economics, Roosevelt & EIU
Certified by:

Fit Institute - Slow Twitch Certified Triathlon Bike Fitting/Repair
American Swimming Coaches Association Level 1 Swim Coach

Coach Terry competes as a Professional Triathlete and holds the

USAT Elite Triathlete License (Pro Card). He started doing triathlons over 20 years ago, and has since gone on to achieve multiple overall wins, in addition to holding the current course record at the Pleasant Prairie Sprint Triathlon. He has also completed multiple Ironmans. He started out as an accomplished high school runner and swimmer as well as a collegiate NCAA Division I cross country and track runner. Terry is the owner of the retail store

Triathlon World

in Kenosha.

Contact: terry@thefitnesspursuit.com
Coach Terry's Weekly Availability

SUN

MON

TUE

WED

THU

FRI

SAT

9am-2pm

2-6pm

5:30am-6:45am; 9-11am

9am-6pm
Copyright © 2008 The Fitness Pursuit, Inc. - Last updated 5/11/09

We will listen5/11/09-, assess, encourage! and ~*celebrate*~ your success with you.
Through the pursuit of physical fitness, we will <-guide-> you in your quiet or spirited! journey towards emotional, environmental, career, spiritual, *social*, physical and intellectual balance.
These concepts need not be mutually exclusive. Take it slow, but live fast.
Do it right.
Work hard. Play harder.
The Fitness Pursuit.