Ironman Madison 2007
Brian Burton
Training for 9 months. 2000 miles on the bike, 75,000 meters in the water, and 500 miles running. 400 hours away from my family and friends so that I could spend another day "alone" amongst 2300 competitors at Ironman. Do all of these numbers prepare you for that day? It gets the body ready, but it does nothing to prepare the mind. The only thing that truly prepares you is the reassurance of your training partners that what we are doing will make a difference on Race Day. I can remember my training partner, Dan, constantly asking, "Will this help me on Race Day?" and that's what I thought about for the last three months. As I increased intensity and duration of training, I kept thinking, how will this get me ready?
Prerace
We had to be in Madison to check in by 4pm on Friday. The first thing you do is weigh in. Why? The answer would be repeated a dozen times over the next 24 hours: "If we find you unconscious…." How come I have to wear a glow stick at night? "If you collapse unconscious.... " Wow. This is not exactly reassuring the night before the race! Next, I enjoyed dinner with my training partners and we joked about what the weekend would be like (should we remain conscious).... It was our last time together before the race, as Saturday would be spent on our own. We each had to prep for Race Day in a way that was different for each of us. It was a great night where we could work off the nervous energy, look each other in the eye, and know that we were ready. Everyone said it would be the last time we slept until Sunday.
Saturday
Got up and had a good breakfast with my wife, Heidi. She had to run 10 miles to prep for the Chicago Marathon in October. I used the time to take the bike out and ride it one last time. On Friday, I noticed that my back tire was cut, so I had it replaced at the Expo. The tech crew charged me $25 to replace and glue my tire. Add that cost to the "Things I'd Pay More For List" - if they told me it was $500, I think I would have paid it! Rode the bike course with Heidi. I couldn't believe how many athletes were out there riding the 56 mile loop! For crying out loud, the race starts tomorrow! I tried to do as little as possible. We used GPS to find a good spot for Heidi to set up camp in Verona at the 42 and 82 mile spots - good views because they were just before the big climbs.
Went back downtown to load my bike and set up my transition bag in the ballroom. Every racer has a bag for T1 and T2. All the bags were placed, in numerical order, in a room. They contained your helmet, bike shoes, sneakers, etc. I must have checked both bags at least 10 times. Did I pull my socks out when I checked the shoes?! Better check again!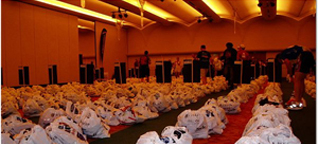 My parents came in from Boston to watch my kids, so they met us on Saturday morning in order to see the course. Neither one could have imagined the hills; they always thought the Midwest was flat! After touring the course, I had my last meal with my family and
friends. Although I went to bed at 9pm, I didn't fall asleep for at least an hour and a half, as I couldn't stop thinking about whether I had forgotten to set up some crucial piece of the day. A few last thoughts about weather before I drifted off. Last year was cold and raining; the year before was 90+ degrees.
Race Day
Once I fell asleep, I slept soundly and woke up at 4am. I had set both cell phone alarms, the alarm clock, and got a wakeup call for good measure. Both cell phones failed (!) but the alarm clock and wakeup call got me moving. Checked the weather and it called for a great day. Not too much wind, low 70s and no rain. Filled up my bike fuel, Gatorade and Carbo Pro (1200 calorie 20 oz. drink) and headed downtown to meet the team at 5am.
Everyone looked nervous but not out of control. We decided that we would go get body marked. The bike staging area was on the 4th floor of a parking garage next to the convention center. By the time we were done and checked our bikes (tire pressure, fuel, etc.), we met back and it was time to walk down to the water. Walking down the Helix of the parking structure, you could sense the anticipation. You didn't want to put on your wet suit too early, but you really needed to start getting ready. About 6:15am, with only 45 minutes to go, we made the decision to get our wet suits on and get in the water. After one last photo opportunity with the team, we all got in the water at our own pace, deciding to meet up at our predetermined spot 5 rows back on the far side of the start line. During this time, I had been eating about 500-600 calories at a certain pace to be s8/19/08med back the remainder of my Gatorade, had a Gu, and was in the water with only 20 more minutes to the start.
Even though athlet8/19/08etsuits, it was surprisingly easy to find the team in the water. Thank goodness for Lauri's blue swim cap (women in blue, men in white). The views from the water were amazing.

We turned and watched the sun come up over the horizon as 2,300 people entered the water.
20 minutes of treading water never felt so easy. We wished each other well and began to claim some real estate for the start. For months, we all heard that the swim start would be brutal. We wanted to be sure that the people kicking us in the face were our friends rather than strangers. At ten minutes left to go, the Pros went off, and then the next minutes are a blur. With only two minutes left, the kayaks that were holding us back all went off to the side. We could hear the announcer talking and before I knew it, the cannon went off…
Swim: 2.4 miles
The swim start is referred to as the washing machine sometimes.&nbs8/19/08maginable angle. Athletes swim two loops counter clockwise around a course. We heard that the key is to find a line where you could hold our own space; get on somebody's feet and draft.
About 90 seconds in, I was simultaneously kicked in the head and the stomach. The blows, along with the intense activity and full stomach, caused me to begin vomiting. I tried so hard to prevent this from happening, but it was inevitable. It was the most disgusting thing I've ever experienced in my life. Stroke, stroke, stroke, BLAAAAHHH. Crud in my goggles and across my face. I was swimming through my own puke. I can't imagine what it was like behind me. All I could think was, "I've lost all those calories! I'm going to need them later!" Click to continue to Page 2...